Welcome
For many years, La Vigna has been the reference in the Mechelen area for authentic Italian cuisine.
With our passion and love for cooking, we offer a healthy and authentic Italian cuisine. Our food is carefully prepared, using only fresh quality ingredients. Our simple presentation allows you to focus on the taste.
Our wine list contains some of the best Italian wines, specially selected for your enjoyment.
Our aim is to ensure that you enjoy good food in a cosy atmosphere.
Enjoy your meal!
Buon Appetito!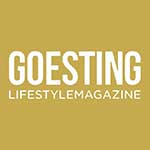 The lifestyle magazine "Goesting" ("Desire for taste") has ranked La Vigna in fourth place out of the best Italian restaurants in Flanders and Brussels in March 2015.
"Thanks to their exquisite Italian wines that go perfectly with their fantastic pasta dishes, you feel like god on the Toscan countryside."
Let us surprise you!
Restaurant
La Vigna
H. Consciencestraat 22
2800 Mechelen
Tel./Fax: +32 (0)15/41.09.24
Closed on Saturday at lunchtime,
on Monday evening and on Thursday.